This is the wonderful post made by Aube Rey Lescure after visiting

Gospa Citrus

in June 1st, 2016. Thanks so much for your lovely words!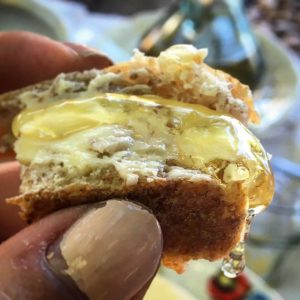 The orange orchards at the Gospa Citrus, sprawling around a hill where a majestic red-tiled villa stands, form a rural utopia of perfumed air and rich dark soil.
Out by the patio, a placid turquoise pool and tables under the shade of centenarian trees. Pitchers of fresh squeezed orange juice clinkering with ice, large wooden bowls piled high with mandarines, clementines, navel oranges, pomelos, and Gospa Citrus's specialty — Bitter Oranges, also christened by adoring Brits as "Seville oranges".
So bitter they are that these oranges are slated to meet one fate only — transformation into translucent, angelic marmalade, thin strips of orange zests suspended in almost liquid gelatin.
The art of marmalade involving these oranges, mostly elaborated in the isles across the English Channel, holds weightlessness and transparency as the utmost standard of a quality spread. Forget about thick, sweet, clumpy jams — these jars, when held up against the immaculate blue sky, allow the light to gleam through like glowing jars of sunshine.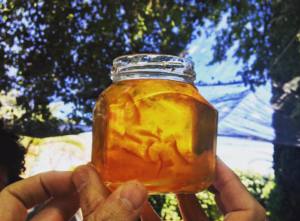 José, who oversees the farm with his partner, Amadora, cuts us thick, luscious slices of country bread that we spread with butter or, for the adventurous, olive oil. The marmalade, when topped onto the bed of butter or oil, forms a shiny and clear coat; the only indications of its citrusness the zesty orange peel confetti, sparsely laid out, adding a faint hint of bitterness to balance the sweetness of the marmalade. When drizzled with olive oil, the country bread absorbs a spiciness that also combines extraordinarily with the spread.
An afternoon tea, a picnic in the shade, a goûter by the pool — sitting there, basking in the intimate idyll of the moment, there is a peace reminiscent of childhood afternoons in the south of France, returning from school amidst the buzz of cicadas and sitting on the shaded terrace that overlooked olive groves and distant hills, gluttonously plunging my mug into a glass of cold milk into which I dipped petit écolier cookies or tartines drooping under the weight of a mound of nutella. The beauty of the estate and spirit of sheer gourmandize — enjoyment of one fruit, one ingredient, one heavenly nectar adoringly scooped, schmeared, savored, a paradise that unfurls only in the late afternoon heat, presaging the nascent anticipation of savory smells from the kitchen as dinner simmers on the stove. Joy and tranquility radiating from this one scene; a luminous painting with strokes of warm, sunny Andalusian colors. If one can lapse into sentimentality because life has so scarcely resembled, say, a Sorollan scene or pure summer and insouciance, it is now.