Marmalade is a staple on many British breakfast tables, do you know that?
By Helen Best-Shaw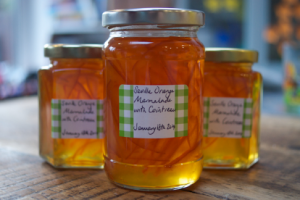 In this new series, food writer and blogger Helen Best-Shaw takes a fresh look at a staple or neglected store cupboard ingredient and suggests new ways to use it. This month, we look at Paddington Bear's favourite sandwich filling: marmalade.
Marmalade is a staple on many British breakfast tables, and is something that I sometimes miss when travelling. In Britain, marmalade almost exclusively is used to describe a citrus jam, usually made with bitter Seville oranges. I am sure that the children's nursery rhyme was inspired at least in part by the British love of marmalade?
Oranges and lemons,
Say the bells of St. Clement's.
The annual Marmalade awards held at Dalemain Mansion in Cumbria are now in their 10th year, with nearly 2,400 entries being received in the homemade category from all over the world this year, with record entries expected next year. All entries receive a certificate and a feedback card from the judges, so if you pride yourself on your marmalade, why not enter?
As well as on toast, marmalade is a wonderfully versatile ingredient and here are my favourite ways to both make it and use it.
More click here.