Former Food Director Sainsbury's magazine and former food editor to Delia Smith, Sarah has written more than 1000 recipes for the magazine. She is also author of the delightful baking book, Family Baking and Marmalade; A Bittersweet Cookbook.
We can read in her website (Pot of Marmalade):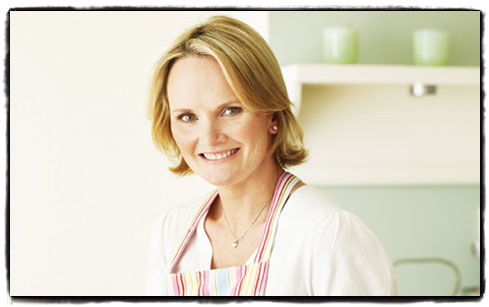 "Food has always been my passion. When I was knee high to a grasshopper, I would spend hours messing around with scraps of pastry and leftover mixture in bowls. Mum poured over her de rigueur Cordon Bleu cookery magazines and made everything, from her own thick, yellow cream to pastry every week. The era of 70's dinner parties was well underway and eating the leftovers the following morning was as an intrinsic part of my food education, I still have a weakness for next day's pavlova.
After graduating, I cooked in France for six months and for anyone locally who needed help in the kitchen from 'drop-off-and-run' suppers to glam canapé parties before spending a very happy nine months at Leith's School of Food and Wine; it was then time to set about finding a 'proper job'.  I was a devotee of New Covent Garden soups and was lucky enough to work there for several years, writing recipes and living and breathing soup.
My next job was my dream job. I worked for my food heroine, Delia Smith.  After 10 years or so, working on magazines, television programmes and Delia's best-selling cookery books, I went on to work in Australia, New Zealand and New York, returning home a few years later to become Food Director at Sainsbury's Magazine.
One of the first books I co-wrote was The Food of France (Murdoch Books) which won a prize at the Gourmand World Cookbook Awards. I later wrote the recipes for The Camper Van Cookbook and The Camper Van Coast and then, Weekend Baking, now renamed as Family Baking. My latest book is Marmalade: A Bittersweet Cookbook and over the past few years I have made hundreds of different types of marmalade; making marmalade has become the start of a whole new kitchen journey. I launched my range of Bittersweet marmalades in 2015".