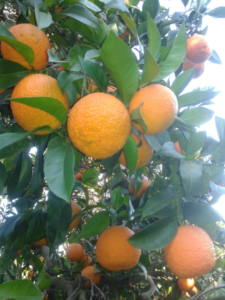 What is a bitter orange?
Bitter orange or Seville orange refers to a citrus tree (Citrus × aurantium) and its fruit. It is a hybrid between Citrus maxima (pomelo) and Citrus reticulata (mandarin). Many varieties of bitter orange are used for their essential oil, and are found in perfume, used as a flavoring or as a solvent. The Seville orange variety is used in the production of marmalade. Bitter orange is also employed in herbal medicine as a stimulant and appetite suppressant, due to its active ingredient, synephrine. Bitter orange supplements have been linked to a number of serious side effects and deaths, and consumer groups advocate that people avoid using the fruit medically.
What is Marmalade ?
Marmalade is a fruit preserve made from the juice and peel of citrus fruits boiled with sugar and water. It can be produced from kumquats, lemons, limes, grapefruits, mandarins, sweet oranges, bergamots and other citrus fruits, or any combination thereof. The benchmark citrus fruit for marmalade production in Britain is the Spanish Seville orange, Citrus aurantium var. aurantium, prized for its high pectin content, which gives a good set. The peel has a distinctive bitter taste which it imparts to the marmalade. Marmalade is generally distinguished from jam by its fruit peel. It may also be distinguished from jam by the fruits used.
Source: Wikipedia