Sarah Churchill is a classically trained chef, with a wide & varied experience spanning more than 25 years, working in hotels and restaurants up to 2 star michelin level. She is the Founder & Producer at The Artisan Kitchen.
www.theartisankitchen.co.uk
www.sarahchurchill.com
We can read in one of her websites (The Artisan Kitchen):
Artisan Kitchen is me – Sarah Churchill, and I am a trained chef and passionate foodie. I set up Artisan in 2011 based in Gloucester creating delicious award winning preserves, & Marmalades, they are handmade and homemade in a big copper pot bubbling away at the heart of my small Gloucestershire kitchen.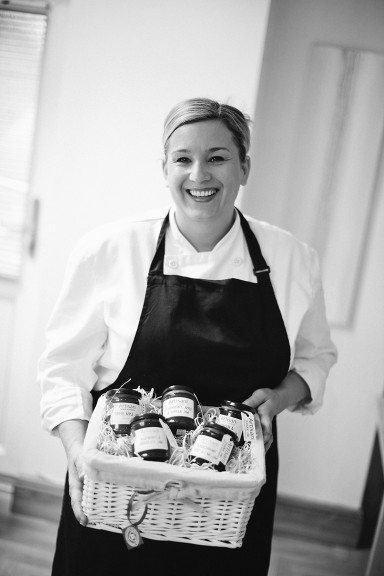 The inspiration behind my business was a local Mirabelle plum tree that year after year would shed its wonderful fragrant fruit on the pavement with no takers. I approached the owner of the tree to see if he would like to swap his fruit for some preserves and one truly local batch of jam later the artisan kitchen was born.
"I like to use  local fruit wherever possible and regularly forage in late summer for apples, wild plums, wild blackberries, rosehips and sloes. My favourite local fruit farms include primrose vale farm in Cheltenham for strawberries and tayberries also brand green fruit farm in newent, Gloucestershire for gooseberries, apples and plums".
My culinary background and training has been at the sharp end of the knife in some of the UK's finest hotels and restaurants, including the two star Michelin Square restaurant in Mayfair where I honed my cooking skills working under renown chef Philip Howard and most recently in the Cotswolds' fantastic food mecca Daylesford Organic owned by the JCB family Lord & Lady Bamford.  I use all my training and knowledge to create unique, delicious & natural range of seasonal produce.